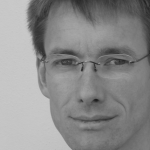 Markus Neteler received his MSc degree in Physical Geography and Landscape Ecology from the University of Hanover in Germany in 1999. He worked at the Institute of Geography as Research Scientist and teaching associate for two years. From 2001 to 2007, he was a researcher at FBK-irst (formerly ITC-irst), from 2005-2007 also at Centro di Ecologia Alpina. Since 2008 he is employed at Fondazione Mach, Trento, Italy. His main research interests are remote sensing for environmental risk assessment and Free Software GIS development. He is author/co-author of two books on the Open Source Geographical Information System GRASS and various papers on applications in GIS. He is founding-member of GRASS Anwender-Vereinigung e.V. and the Open Source Geospatial Foundation (OSGeo.org). In September 2006, he was honored with the Sol Katz Award for Geospatial Free and Open Source Software (GFOSS). In 2010, he obtained the the degree of a Doctor of Natural Science (Dr. rer. nat.) in Physical Geography. From 2011-2016 Markus was head of the GIS and Remote Sensing Unit at Fondazione Edmund Mach.
Since 2016 Markus is partner and general manager of the company mundialis.de, Bonn (Germany)
Publications/teaching:
Fellowships:
Referee:
Referee for Agrometeorologia, Applied Vegetation Science, Boreal Environment Research, Computers & Geosciences, Ecology and Society, International Journal of Geoinformatics, International Journal of Geographical Information Science, Remote Sensing, Transactions in GIS, Remote Sensing of Environment, and others. He is member of the scientific boards of various GIS related conferences.
Selected projects:
Research interests: